Welcome to web pages of Speleological section Velebit! Here we present just a part of our activities that are connected with exciting explorations of big and deep caves in Croatia and other countries.
Many materials about our explorations you can find on Croatian speleological server www.speleologija.hr
HISTORY OF SPELEOLOGICAL SECTION VELEBIT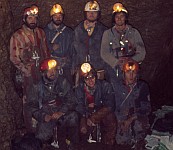 14.-15. 7. 1977. Ponor na Bunovcu: -534 m
Marijan Čepelak, Radovan Čepelak, Željko Filipović, Mladen Garašić, Damir Prelovec, Jurica Sekelj, Branko Šeparović, Boris Vrbek
Photo: M. Garašić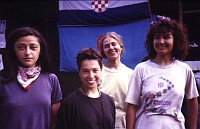 Four girls - members of Speleological section Velebit, were on the bottom of Lukina jama
(-1349 m) in 1994. - Ivančica Zovko, Tanja Bizjak, Sunčica Hrašćanec and Ana Bakšić.
Photo: V. Božić
INFORMATION FOR FOREIGN VISITORS TO CROATIAN CAVES
Here you can find the information about the possibility of visits or joining the explorations of Croatian caves.
According to the Law of nature protection (Zakon o zaštiti prirode, Narodne novine 70/05), you can not enter any cave in Croatia without written permission, except touristic caves. In the caves you can not take with you any geological or biological sample without the written permission of the Croatian Ministry of Science, Education and Sports.
INTERNATIONAL COOPERATION
SPELEOLOGICAL EXPEDITIONS AND IMPORTANT SPELEOLOGICAL EXPLORATIONS
PHOTODOCUMENTATION AND MOVIES

The deepest Croatian cave -
system Lukina jama - Trojama,
Hajdučki kukovi, Sj. Velebit,
-1.392 m


In 2008. we continued the exploration in Velebita pit with world deepest underground
pit (513 m).
The depth is -1026 m.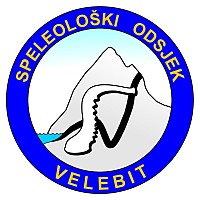 SpeleoGoogle
FAST SPELEO SEARCH
VELEBITEN
is magazine published by Speleological section Velebit, founded in 1990.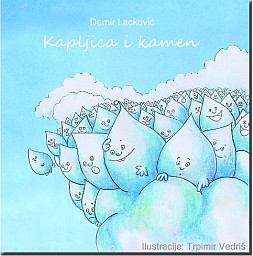 The members of Speleological section Velebit Damir Lacković and Trpimir Vedriš presented in April 2008. educational book about karst phenomena Droplet and rock published by Croatian Natural History museum.
Zagreb speleological school
and work on speleological education by seminars and field activities
The protection of karst phenomena.
Cave conservation.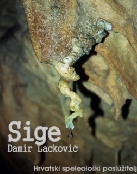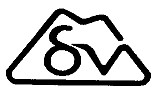 SPELEOLOGICAL SECTION
PDS Velebit
Radićeva 23
10000 Zagreb
CROATIA
e-mail: speleo@hazu.hr
Chairman: Ronald Železnjak
Secretary: Marta Malenica
Gears: Marko Masnec
Arhive: Dina Kovač
Library: Vedran Ferenčak